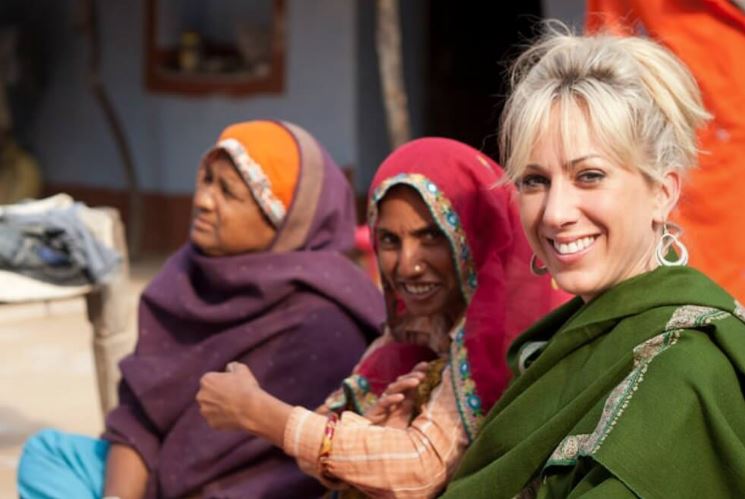 There were a million reasons why I shouldn't go. I'm not an evangelist. I don't have any special talents. I don't have $3,000 lying around. I've never been out of Kentucky much less on another continent. I'm not a physically ambitious person. I can't survive without electricity or running water. But I only needed one reason to go: I was called.
Mary
When my sister first asked me to go on this mission trip I was so excited because I thought I could help make a difference with others in need. What I did not expect was for my life to be completely changed! I went thinking people in India needed me, but quickly realized it was I who needed them. God used this trip to change my life!
Jane
We couldn't turn down the opportunity to visit India even though our daughter was only 1 yr old and it was hot season. When we got there we were just blown away by how the kids welcomed us! They all made hand crafted cards for us. To come and see the work of Love Never Fails taking in street children that are now living transformed healthy lives full of joy was mind blowing. Before we left, the kids even prayed for us.
Jacob, Sarah, and Hosanna
I agonized about whether I should sign up for this trip or not. Going was the best decision I've ever made. The U.S. staff and the field staff were fantastic in making sure we were always safe, the accommodations were excellent, and we never went hungry. Visiting the child development centers was a life changing experience and you will never understand how much your sponsorship and letters do for children unless you experience it for yourself. Worth every penny and more.
Jim
I came to India to heal the broken hearted and set the captives free. But it was my heart that was healed. I already applied to come on the next LNF mission trip. I had no idea that India would have changed my life!
Pam
I met with kids rescued from the streets being forced to live and do thing many of us would not even mention. Now, by the grace of God they live in a safe home and found the love of Jesus. They were taught to pray and when they gave us a farewell prayer these 12 kids prayed like warriors not little children.
Charlie
Read more inspiring and inspirational stories here.
Love Never Fails International began in 2009. Our founder, Dr. Johnathan Kraus felt the calling to leave his teaching career in NJ, USA to go to India and help children suffering in the slums. This all started after watching the movie Slumdog Millionaire with friends from Church.
Today with the giving and support from our donors and work of LNFI children across India are receiving life changing opportunities they desperately need and deserve – opportunities many of us take for granted. Things like an: education, healthy meals, clothes, health care, protection from sexual and physical exploitation, and most important of all, the Gospel of Jesus.
On MissionFinder, we have over 1,000 ministries offering mission trips, internships and job opportunities like this to serve at home and around the world. Does your church or organization need help organizing mission trips? Check out our partner site, MissionMinder.com. Their easy to use software will help you manage all the details for your short-term mission trips and team members online. Unlimited Trips. Unlimited team members. Easy online fundraising for your team members. Try it free for 30 days. Learn more here.